Welcome
Formwork in place ready to pour concrete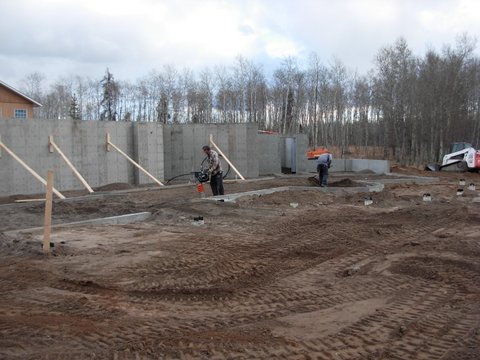 Backfill foundation and compacting fill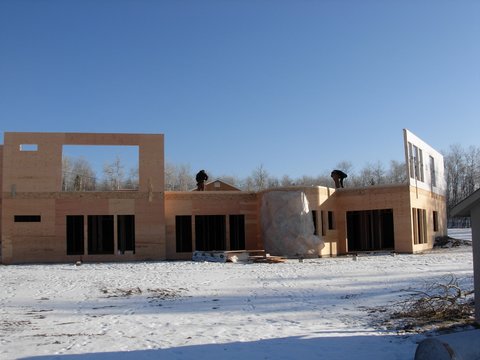 Walls going up!
Framing almost complete
Maple kitchen cabinets with granite countertops
Stone fireplace in livingroom complete with built-in cabinetry
Basement fireplace with accenting wood ceiling features

Glass railings on tiled staircase to basement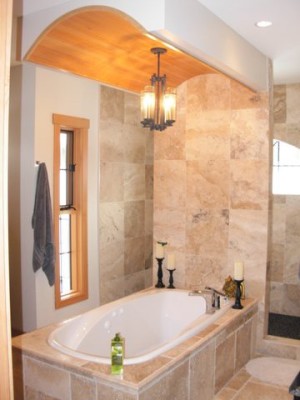 Custom ensuite with tub and curved ceiling
Tiled sundeck completed with glass railings for an unobstructed view
Side view
Front view.
Grand Entry
Lake side view
Q

uality Custom Home Builder in the Cariboo

Wilderness Custom Homes is a 100 Mile House Custom Builder building homes like this attractive 5,200-square-foot custom built home. With a triple attached garage and a 1,400-square-foot secondary building, it is a masterpiece in every way! There are granite countertops and maple cabinets throughout. The main floor comprises mostly tile floors, with hardwood in the bedrooms. The entire home stays nice and toasty in the colder months with multi-zoned forced air system. This luxury custom home has every necessity and indulgence available, with heated floors in bathrooms—nothing better than stepping out of the shower or the bath to warmth on your feet! The roofing is cedar shakes, with a combination of cedar board and batton siding as well as stone facings. The entry door, a work of art unto itself, is an eight-foot-tall leaded glass door; all other interior doors are seven feet high in a clear fir shaker style. Wilderness Custom Home's attention to detail is obvious in this home, as both floors have gas fireplaces with stone facings, and a fireplace in the master bedroom as well. We are the premier 100 Mile House and area Custom Builder – this is shown with the vaulted ceiling in the living room, and the fir detailing and finish throughout, including columns and beams, window casings, baseboards, ceiling and rafters. If you're looking for a custom home builder in Green Lake, Sheridan Lake, Bridge Lake, Loon Lake, 100 Mile House, Lac la Hache, Horse Lake, Big Bar Lake, Clinton, 70 Mile House or practically anywhere in the beautiful Cariboo region of spectacular British Columbia, we are the custom home builder to call.

We can make your dream home a reality!